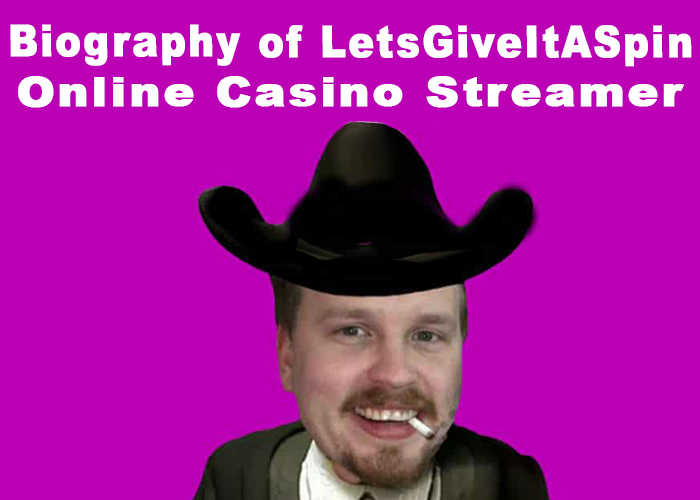 In our world, most people have to work hard to maintain themselves. After a stressful day, one is naturally looking for a way to relax. Many people find relief in gambling. This industry has been demanded since time immemorial. Our ancestors played dice; they created cards, backgammon, etc. Humans have always felt the need to be entertained. They felt an urge to risk. They wanted to compete. Gambling can fulfill all of that in one go. Nowadays it goes even further. One can play at a casino from his own home. Online casinos give everyone a chance to have fun. Whenever and wherever they want. To make the picture complete, the internet also gives one a chance to find like-minded people from all over the world. That is why online casino streaming channels have become popular. LetsGiveItASpin was named one of the best casino streamers of 2020 by the Casino Life Magazine. At the moment he has 57,100+ followers on Twitch, 73,700+ followers on YouTube, 5,500+ on Twitter, and 3,500 on Instagram. Such a wide approval from the audience means something. It indicates that he's one of the most demanded and professional casino streamers worldwide. However, it wasn't always like that. Let's follow LetsGiveItASpin Streamer's path to success from the very beginning. 
Beginning of LetsGiveItASpin Career
Behind the LetsGiveItASpin stream is Kim Hultman. Kim once was a poker player. At some point, he had a genius idea to start streaming his online casino experience. As a professional poker player, he already had the knowledge to share. At first, he just uploaded a few short videos. They did not gain him many viewers. Everything changed once he started doing online streaming. 
Way to Success
Real fame came after Kim opened his LetsGiveItASpin Twitch account. Twitch is an international streaming platform. Different people connect and share their experiences there. At that point, casino streaming wasn't that popular and Kim was one of its pioneers. However, even now when this direction has grown vast he stands out.  Kim has a very unique personality. That's why the audience feels attracted to him. He's a very straightforward and sincere person. He shares his thoughts and expertise with the audience. Kim's delivery does not only entertain – it draws people closer to him. Now whenever Kim streams LetsGiveItASpin live broadcast, thousands of people watch it. Over time he grew from being only a streamer to something more. He established the CasinoGrounds community. It is an online space for gambling enthusiasts and streamers. They can share their big wins and help each other there. Last year they also organized a 24-hour charity slot stream. Hultman raised 47,725 € for the World Health Organization. That demonstrates another one of his qualities – altruism. 
Nevertheless, Kim keeps regularly streaming from and uploading his LetsGiveItASpin YouTube channel. His videos usually have around 20K views each.
Biggest Wins
Any player should be prepared to win and to lose. Let's mention that LetsGiveItASpin does not use fake money for gambling. Everything you see online is more than real. 
Kim's biggest win in slots games is 30,000€. The initial bet was 6€. He won playing Deadwood slots at LeoVegas in July 2020. 
LetsGiveItASpin's biggest Monopoly win is 19,650€. The initial bet was 225€. He played at LeoVegas as well.
The biggest win at Crazy Time from LeoVegas was in November 2020. Kim won almost 30K € with the initial bet of 245€. 
His biggest Deal or no Deal win is 2,700 €. The initial bet was 25€. The game was conducted by the Rizk casino.
LetsGiveItASpin's win at the Ultra Casino roulette was also memorable. In May 2020 he won 25K€ there.
Recently, Kim won 18K € at Baccarat by LeoVegas. 
As you can see, LetsGiveItASpin Casino Streamer is an experienced gambler. He's won big and he gladly shares these lucky moments with others on his channels.
Summary
Kim Hultman has become a great friend to many of his followers. He might not talk to each of them personally, but they feel the connection with him. Whether it's because of his expertise or just a lovely personality – we don't know. His audience is very supportive of him. They express it in their comments. Many call him a friend, many just write to congratulate or thank Kim. He earned my respect after I heard some of the tips he'd given. He strongly supports responsible gambling. And he reminds the viewers about it. In the annotation to every video, he writes about the rules one has to follow to protect oneself from addiction. 
I also liked the fact that LetsGiveItASpin gives some tips on how to play. He freely shares some strategies that could help one to win. You can always find the latest bonuses available at popular casinos on his page. Besides, a newbie always has a question about where to play. Kim happily provides a list of the most trusted casinos on his page. He is a very honest person. You can be sure that the information that is provided by LetsGiveItASpin is not fake.
FAQ
Where can I find more personal information about LetsGiveItASpin?
Kim does share his insights during his streaming sessions. He does not hide his personal life from the followers. However, if you want to learn more about him, there is information about him on the LetsGiveItASpin Twitter account as well as on his LetsGiveItASpin Instagram account. 
How long has LetsGiveItASpin been streaming online casino sessions?
He started his Twitch and Youtube accounts in 2015. It makes his overall experience 6 years. 
What can I learn from online casino streaming by LetsGiveItASpin?
LetsGiveItASpin's account is entertaining. His sense of humor is impeccable. But besides just having fun, one can learn things from him. As I've mentioned above, the guy is a former poker player. It means he knows some things about casinos. He often shares strategies, tips, pieces of advice to the followers. Kim regularly checks out new games\casinos. It is a great chance to learn about them from watching his videos. And not from losing money. On the website, Kim regularly updates his Top-List of trusted casinos. There's also a sector with Bonuses and free spins offered by casinos.