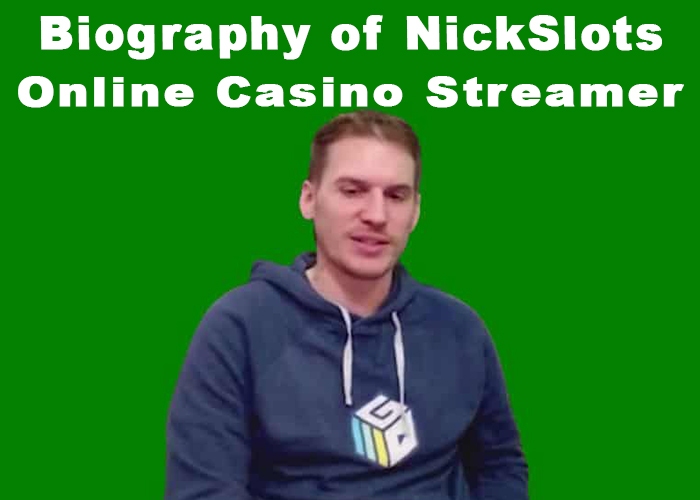 Everybody, who keens on casino games, surely knows NickSlots. He is one of the gamblers, who dedicated his life to this. There are a lot of people doing a similar thing. Among them, he is one of the most famous streamers. To dispel all doubts, you can look at NickSlots' YouTube channel. 
His real name is Nick Preston. He was born in Yorkshire, England. Now, he is a co-owner of the Casino Grounds platform and he is famous for his streams on different social platforms. There he has a huge number of followers, who observe his activities in the field of casinos. He has accounts on several platforms. You can see his videos on YouTube, Twitch, Instagram, and Twitter. Also, NickSlots has his website. 
Beginning of NickSlots Career
Somewhere in 2016, NickSlots started his career as a slots streamer. Since that time, he became a well-known person. The desire to change his life was the beginning of the successful career in casino streaming. He started publishing his videos before 2016, but a bit later they were deleted. The slots were a subject of interest for him since he was a teenager. Then he was spinning fruit reels. He liked that, so later it became his main activity. As his career progressed, he found new sources to communicate with the audience. The contact with followers and his fans was important for him. So now, he has one of the most famous channels on YouTube. Most of all, in his country he is the first who became an online casino streamer. 
Way to Success
His real name was unknown for a long time. People were at loss to know if he was a real person or a commercial project. There is little information about this on the Internet, but we know, that his name is Nick Preston and he was born in Yorkshire. The content of Nick you can find on different platforms. 
Over time, Nick's videos get better and better. This we can notice when we compare older videos with current some. That's thanks to the technical side and changing the content presentation. 
NickSlots Twitter was created in the winter of 2016. Now, there are more than 5 thousand followers on his account. At NickSlots Twitch you can watch videos with wins and failures. Sometimes Nick amuses the audience with funny posts, communicates with followers. There are some posts on NickSlots' Instagram.
Talking about other platforms it's important to mention Nick's website. There you can find the latest videos. All visitors can see the section with bonuses. Also, there are different casino's current suggestions. Except for this, there is a section with a row of popular online streamers. There are lots of gamblers sharing their experience. 
Nick is one of those persons who carefully approaches the creation of the content. He works hard for this. This is why some of his videos have lots of views. Sometimes this number exceeds 200k. Moreover, there are key points and announcements on Nick's channel. 
Is Nick Fake? This is a popular question among people. But there are some details, which point in the opposite direction. For example, on his channel you can see videos of his failures, he doesn't always win. His communication with the audience proves his reality: he is not a bot. And he continues gaining popularity and entertain people all over the world.
Now, NickSlots streams are held very often. You can find the schedule at NickSlots Twitch if you would like to see his casino streams. This channel is not less popular than his channel on other platforms. NickSlots Live arouses the interest of people from all over the world. There are huge numbers of followers and views on his videos. There he has one of the leading positions in popularity in the world, which can't be said about his other channels. 
Biggest Wins
The greatest of Nick's win is more than 27k when he bet only 5 pounds. That's his mega win in the last gaming experience. That was an incredible combination, that gives so big win.
The second big win was received also thanks to an awesome combination. That was an unexpected winning because there were some empty spins. In the video we can see the insane combination, that gave money to Nick. 
The third is the game, where he got some big bonuses thanks to the several good combinations. So the result is impressive – it is available for watching on his channel. 
Summary
To sum up, NickSlots Streamer is one of the most famous casino streamers. His entertaining content focuses on different things. He posts new videos, casino guides. Also, he is engaged in the development of his website. 
Not so long ago, Nick suddenly stopped communicating with the audience and posting new videos. Some followers worried about him and made assumptions about that. But there were not any reasons to concern about him. He just needed some time to relax. Now there is a schedule of his new streams, you can read that on the Internet. 
There is one more thing that bothers those who watch Nick's streams. Many people think about using by NickSlots fake money. But he became a gambler as a teenager, and he has achieved a lot at the moment. So it is really hard to think that he is no more than a commercial project. He gets more thanks to the partner programs. 
So he is just a real person, sharing his experience with his followers. And there is no point if you are a newcomer or not, everybody will find something new and interesting for yourself. NickSlots Casino Streamer is a dedicated person. 
FAQ
Is NickSlots streamer fake?
No, he is a real person. He just sharing his experience on his channel, posts some videos on different platforms. His reality is proved by many factors, so there is no doubt about that. 
When are the NickSlots streams held?
According to the schedule, now he is streaming four times a week from 11:00 to 16:00. They are held on Monday, Tuesday, and Friday, 
Where can we read Nick's biography?
There is not a lot of information about him. We just know the country which he is from. That information is in the public domain on his website.