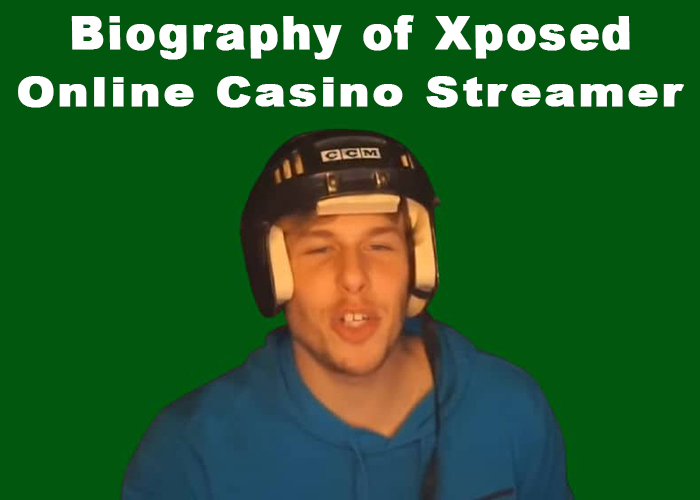 Nine years ago, the creation of Twitch brought a new era into online life. It kick-started the video gaming streaming in the US. At the moment this platform has more than 3 million broadcasters monthly. Giving a chance to watch their favorite streams to more than 15 million viewers. Amongst this crazy variety, there are some really good streamers. One of them is a casino and game streamer named Xposed. He conquered the platform almost immediately after joining it. And his popularity has only been growing ever since. 
Beginning of Xposed's Career
For some people, it takes a lifetime to figure out what they have to do in life. For eight-year-old Cody Burnett from Canada, it was already clear. Once he started playing Call of Duty, he realized he wants to be an esports streamer. After gaining enough experience, Cody made his first streaming attempts while at the high-school. He registered his Xposed Twitch account that would later make him famous. During his last school year, Cody had to take some time off to prepare for the exams. After coming back from a break he was thrilled to see that his account had grown really popular. At this point, in November 2017, the young man took a serious decision to dedicate his life to the streaming career. 
Way to Success
However, it wasn't all nice and smooth for Xposed. His parents were not supportive of his new passion in the beginning. Cody's decision not to attend college fueled the fire even more. Xposed found understanding and encouragement from his girlfriend and friends. They even pushed him to keep pursuing this career, when he felt discouraged. 
Making his Xposed stream a regular practice, he started gaining more and more followers. Seeing the numbers of viewers growing every day, he felt inspired to keep going. What was the secret of his charm? There are thousands of streamers on Twitch. Not many of them have achieved what Cody had. His raging expressive reactions, teenage jokes, and ambitiousness were admired by many. He has a natural passion for games and it's a pleasure to watch him play. His energy and enthusiasm are contagious. Now, at the age of 23, Xposed is a renowned streamer. 
He has 364,1K followers on Twitch. His Xposed YouTube channel has 69,5K followers. Cody does his streaming using mostly these two channels. Of course, his Twitch account is his main occupation. But he also confessed to his fans that he sincerely loves Youtube as well. And that if he had time he'd like to do both platforms full-time. 
The gamer prefers playing slots and different live games. Of course, as a streamer, he is always in search of something new. Still, Xposed has a few slots and games he always comes back to. For example, Fruit Party slots, Crazy time, and Mega Ball. Cody keeps enjoying CoD as it's the game that gave him a start.
One more specialty about Xposed's gambling is his bets are usually quite small. Normally, he'd bet around 10$ or so. His income is at least 6K$ a month excluding additional revenues and donations. Despite that, he is a very humble person. Cody gives an overall impression of a simple and down-to-earth guy. And his followers love that. 
Recently, Xposed has also started his own clothing brand that he sells on his website. T-shirts, hoodies, and different accessories with his logo are found there.
If you'd like to know more about him as a person, you can follow his Xposed Twitter page or Xposed Instagram page. He is open about his life. Cody shares pictures and thoughts on his everyday life, family, hobbies, etc.
Biggest Wins
Xposed has quite a few big wins. Here are the most remarkable of them.
His biggest slot win is 65K $. He won it while playing Fruit Party Slot at the Roobet casino. 
Xposed's biggest Crazy time win is 150K $. He won this huge prize at Roobet casino during the Xposed live stream from Jan 2021. 
The biggest Bingo win is 30K$ at the Mega Ball. 
Xposed's biggest Monopoly win is 60K$ at Roobet casino.
The biggest Blackjack win is 30K$.
Summary
Xposed is an outstanding streamer. His channel is one of the most popular in the online gambling community. Cody's high and heart-warming energy attracts people from all over the world. Despite his young age, he is an experienced gambler. He has a lot to share about gaming. And he is the person whose friendly advice is easy to accept.
FAQ
What are Xposed's streaming hours?
Cody Burnett and his girlfriend Shania have become parents in 2020. The hours of Xposed Casino Streamer were also affected. Now he streams mostly in the early evenings. Each of his streams lasts for 4-6 hours. On weekends he starts a bit earlier and streams longer. You can find his schedule on the Xposed twitch page. The young streamer takes his channel very seriously. He keeps a regulated schedule and keeps in touch with the fans. 
One can also find the streams recordings on his Youtube channel. You can enjoy them at any time of the day. There is one disadvantage of this option. You won't be able to live chat with Xposed. And his live association is one of the best things in his streaming.
What are Xposed's favorite casinos?
Like any other person, the famous streamer also has his preferences. On the list of his favorite casinos are Mr. Green and 888 Casino. He also often plays at the Roobet Casino or Caxino. He also thoroughly enjoys experimenting with some new platforms. They usually offer attractive bonuses and free spins. 
Is Xposed a public person?
Indeed. Unlike many other streamers, Xposed freely shares details of his personal life. He regularly holds online FAQ sessions with the fans. He also takes time to reply to most of his followers' questions and comments on social media. They know, for example, that his hobbies are hockey, baseball, and soccer. He often posts photos of his girlfriend and a little son. On Instagram and Twitter, you can learn a lot about Cody as a person rather than his famous Xposed Streamer side.
Does
Xposed
use
fake money
while gambling?
As far as I know, no. As I've said, you can hardly find that anything about Xposed is fake. He is not a person greedy for money. Xposed is not going to cheat his audience. He's there to just share his passion for gambling.