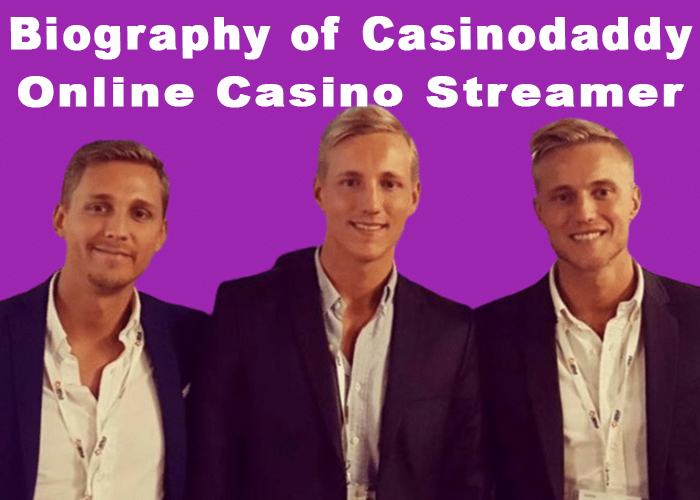 Let's first look at who streamers are. A streamer is an organizer of online broadcasts. Most often, streamers show the passage of computer games. Their audience is young people who are interested in watching the presenter, his emotions, comments, and chatting. As a thank you, viewers can send donations to the streamer — sums of money to support the author. It can be both small money, for example, €1-2, and substantial donations of several tens, or even hundreds of thousands of euro.
And among them, one of the most prominent streamers today is the Casinodaddy Twitch account — a streamer that has already become a legend in the world of online casinos. At the moment, many outstanding casinos are looking for ways to collaborate. We also know that this account gives gifts to everyone in a row, so many people doubt the truthfulness and reality of Casinodaddy streams' luck.
Beginning of Casinodaddy's Career
From what we know, it is that their early career began with the beginning of Twitch. The streamers of this account have always had a love of gambling and casinos. They got an idea — why not play these games with others? Once they stumbled upon the "casino games" section and decided that it was fate. It was a great opportunity to make their dream come true by sharing the pleasure they have when playing with other people around the world. Also, with this decision, they wanted to develop the new community.
Way to Success
Getting started is always difficult, and they are no exception. To begin with, Casinodaddy Casino Streamers needed to find its niche and stand out from the competition. As the audience grew, they gained confidence in themselves and in what they were doing. Then they were only beginners, but now they have gained a certain charisma, something that helps them to move on.
In the end, they realized they can be a niche. Viewers like to watch and streamers like to talk. They call their viewers friends, between whom there is trust and devotion.
The Biggest Wins
They have had many big wins, both online and in land-based casinos, but let's look at the most significant and famous ones.
The biggest win of one participant in one bonus game was on Pharaoh's Gold II Deluxe at the Cosmopol land-based casino (Malmö, Sweden).
They also received the next big win in a land-based casino in Malmö. One participant had a crazy race on Dolphin's Pearl Deluxe and won €5900 on a €4 be over 120 free spins in the bonus game!
Also, don't forget about their online winnings.
As the guys themselves said, their day began the same as any other. On that day, they did everything they always did — played, communicated with the audience, and received major projects. One guy, Anton, was playing and when he first got the immortal bonus, he expected nothing out of the ordinary to happen.
It was quite funny because the enormous success came on the penultimate spin of the bonus, and before that, it was well below average. When the spin went down, Anton even sang along to the backing track and swapped the words around to describe how bad the bonus was going. When he saw the wild and premium musicians line up, he quickly stopped singing.
The guys heard his cry and immediately ran up to see what he hit. We all immediately realized that it was huge, but the counter was slowly growing. He crept from 2,000 to 4,000 and then really started picking up speed. The higher the number, the more we shouted and shouted. It was an amazing moment for us and luckily, since we were streaming, everything was filmed.
Summary
Casinodaddy wins with ease. But this is not only the merit of luck or constant pastime in the game. What sets the Casinodaddy team apart from other streamers is their dedication to their work, along with a serious approach to the principle of the game, and an interesting presentation of information that is easily perceived by beginners.
FAQ
Is
Casinodaddy Fake
or Is It Real?
This question comes up often that Casinodaddy is scammers.
As with many popular streamers and successful gamblers, this opinion generates a significant amount of success envy.
There is no evidence that Casinodaddy is making fake money. Therefore, to believe or not is up to you.
Who are the guys who are hiding under the common alias Casinodaddy?
From the official Casinodaddy Twitter and Casinodaddy Instagram, you can see there is over one person who owns it. CasinoDaddy — it's a family-based industry for tricking naive spectators ready to use their referral links, simultaneously bleeding from their ears because of their terrible accent. It's pretty funny to listen to three blondes, whose speech is like those with constipation and hemorrhoids at the same time.
They've given birth to whooping three grand: Erik, Anton, Mathias.
Let's leave the technicalities aside, we don't care who is who there, this is only a detail. Three identical crooks, who are ready to forget for their benefit what honesty and real kick mean and even about testis. Although, from the look of them, they didn't get testis at conception.
How to Communicate with
Casinodaddy Streamer
?
If you want to see the magic that the gambling process has, it is the best way to see it on Casinodaddy YouTube Live stream. They are publishing it constantly, and each video gets millions of likes and shares.
A few facts about Casinodaddy participants.
Each of them started playing slot machines at 18. And today they have vast experience in gambling for over 12 years.
They have over 8,800 Facebook followers, and their Instagram audience is the same.
There are over 144,000 followers on Twitch.
The biggest win that Casinodaddy has ever streamed was €98,139, and it was on Jammin Jars slots.
What's their favorite slot?
Mathias's favorite slot is The Invisible Man because he got lucky with double bonuses and huge wins. He also fell in love with the game provided by Game Art. Eric's favorite slot is Faust from the Novomatic provider. He loves the thrill of high volatility slots found in many Novomatic games.